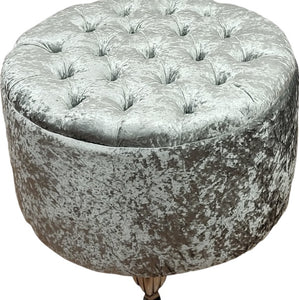 Pouffe - Round Stool
Regular price £399.00 £339.00 SALE ON
Luxurious Crushed Velvet Round Pouffe Stool
The Pouffe - Round Stool is a manifestation of luxury and craftsmanship, adding a touch of grandeur to any space it graces. Envisioned as a centrepiece of comfort and style, this plush piece is as functional as it is fashionable, ensuring it fits perfectly within contemporary, classic, or eclectic homes.

One of the first things you'll notice about this gorgeous pouffe is its rich crushed velvet exterior, which exudes opulence. As the light hits, the soft shimmer of the fabric showcases the intricacies of its Chesterfield upholstered pattern. But it's not just about the looks; the tactile experience of the velvet under your fingertips, combined with the cushioning beneath, evokes a sense of luxury at every touch.

Standing proudly on chrome feet, the stool brings together a blend of traditional and modern aesthetics. The Chesterfield design, renowned for its timeless appeal, is modernised with your choice of sparkling diamante or matching colour buttons, allowing you to tailor the look according to your personal preference and room aesthetics.

Its generous proportions ensure that it's more than just a footrest. It can act as a chic seating option for guests, a placeholder for a tray with refreshments, or simply a spot to relax your feet after a long day. Beneath its beauty lies impeccable functionality, with firm yet flexible foam fillings ensuring it retains its shape while offering optimal comfort.

One of the standout features of this pouffe is the vast customisability. With over 40 colours and fabric choices available, you're spoilt for choice. From the velvety touch of plush or plain velvet to the textured allure of linen and chenille, there's a finish that'll resonate with your tastes and seamlessly merge with your current decor.

In essence, the Pouffe - Round Stool isn't just a piece of furniture; it's a statement, a piece of art, and a daily indulgence rolled into one. Whether placed in a living room, bedroom, or study, it promises to be a conversation starter, elevating the aesthetics and comfort of the room.

Available in 60cm or 90cm options.

Nationwide delivery within 20 to 30 days.
Handmade to order.
Crushed Velvet - Black - Grey - Silver - Cream - Gold - White - Truffle - Navy blue - Turquoise - Dark purple - lavender - hot pink - red - baby pink
Soft Plush velvet - Dark grey - Silver - Mink - Gold - White - Baby pink - Royal blue - Steel pewter - teal - green
Plain velvet - black - dark grey - silver - naples grey - mink - caramel - cream 
Chenille - Black - Charcoal - Silver - cream - mink - brown - lime - turquoise - purple - red
Linen - Sand - Slate - silver - navy blue
Crushed velvet, plush velvet or chenille fabric chesterfield stool