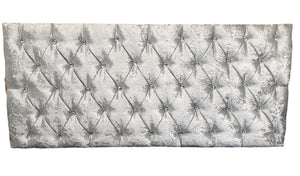 Crushed Velvet Chesterfield Headboard
Regular price £90.00 SALE ON
Crushed Velvet Chesterfield Headboard 
Transform your bedroom into a haven of opulence with the Crushed Velvet Chesterfield Headboard. This meticulously handcrafted piece is not just a headboard, but an emblem of elegance.

Delicately constructed in the UK, this headboard boasts a 24-inch deep padding, offering a plush and sumptuous feel. Its Chesterfield design, a timeless symbol of sophistication, is accentuated by either shimmering diamante or matching colour buttons, based on your preference.

Diversity in design is also at the forefront. With over 40 different colour and fabric options to choose from, ranging from luxurious crushed velvet to sophisticated chenille, this headboard can seamlessly blend with any room's aesthetic or stand out as a lavish focal point.

Practicality and versatility are also key. Whether you have a divan bed or are looking to mount it directly onto the wall, this headboard comes equipped with the necessary fittings to suit your needs.

Elevate the ambience of your bedroom. With the Crushed Velvet Chesterfield Headboard, you don't just get a piece of furniture, but a statement of luxury and style.

Delivery nationwide 15 to 21 working days.

Crushed Velvet - Black - Grey - Silver - Cream - Gold - White - Truffle - Navy blue - Turquoise - Dark Purple - Lavender - Hot Pink - Red - Baby Pink
Soft Plush velvet - Dark grey - Silver - Mink - Gold - White - Baby pink - Royal blue - Steel pewter - teal - green
Plain velvet - black - dark grey - silver - naples grey - mink - caramel - cream 
Chenille - Black - Charcoal - Silver - cream - mink - brown - lime - turquoise - purple - red
Linen - Sand - Slate - silver - navy blue